This is a book that is written for every Christian to understand and to follow step by step. I have found that the majority of Christians do not really realize the authority which each one of us has in the Name and the Blood of Jesus Christ. That is why I wrote this book. To teach the body of Christ. We have got a real enemy – satan. We need to know how to "fight" this enemy!
I also run a VICTIM SUPPORT CENTRE at my local church, where I do counseling every single day of my life. God showed me such an easy way to do deliverance. It only takes 30 minutes with a person and that person will be completely set free in the Name of Jesus. I have 23 questions which I ask a person coming for counseling. No kicking and screaming involved. No throwing-up on the carpets or slipping and sliding like snakes. JUST ONE PRAYER and God will set them free.
I am also available to do Deliverance Seminars and I also give talks on Satanism and the Occult. When I was a police officer I use to work in the Occult Related Crimes Unit in South Africa.
send an E-mail to: info@warfare.co.za to order.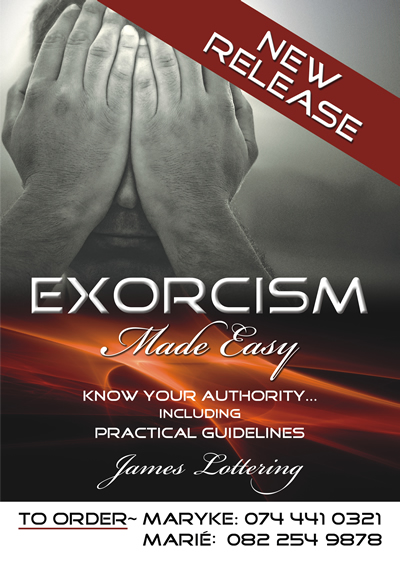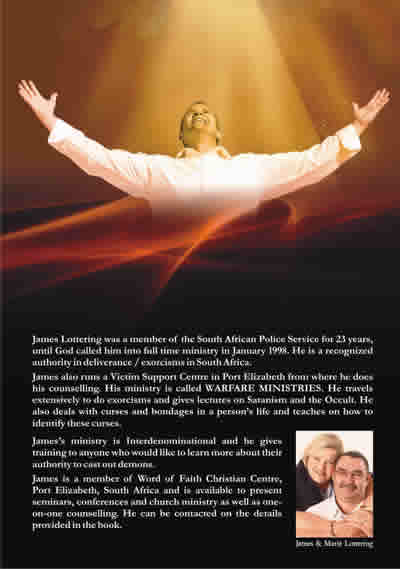 REVIEW:
"From reading the book "Exorcism Made Easy", it is apparent that Pastor James Lottering is a humble man with a joyful spirit; the authority he carries in the Spirit is very obvious in the answers he gives to the questions asked. The book is non-academic and fun to read, while at the same time being a powerful tool for warfare."
Denzile Reddiar
Durban